Are you planning to buy your own equipment for your new video production studio?
When we're designing a video studio, a client may want to purchase some of their own equipment. After all, they see it online at one of the well-known equipment retailers. They may be thinking that by buying it themselves, they'll pay less than if they went through their studio design and building company. This is actually not so.
In fact, there are many significant advantages to allowing your studio design and building company make the purchases.
Here's what you need to consider.
The studio design companies get a reseller's discount that's invisible to you.
For the equipment that you might purchase directly, your contractor can sell it to you at the same price you'd pay. Your contractor receives a small discount on the equipment, so that anything they make is invisible to you. There are multiple benefits to you when you go through your contractor rather than buying yourself.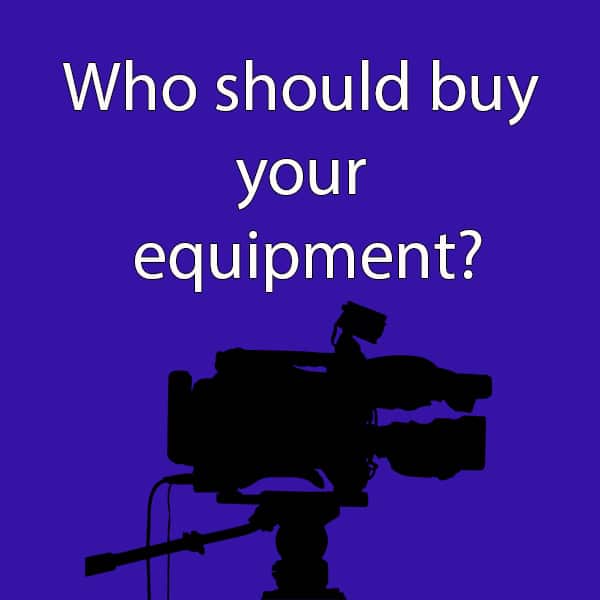 First, it's incentive for the studio design company to take your project on. The reseller's discount allows them to make profit, and that makes the project worthwhile to them. It acts as compensation that doesn't come out of your pocket. It motivates your team, providing incentive.
If your studio design company buys the equipment, they can test it all before you receive it.
By allowing them to bring the equipment to their location before it's installed in your new studio, it allows for testing in a working environment. If a piece of equipment isn't working properly, it rules out any electrical or other types of issues in your new studio. There's a chance that the equipment is faulty, or doesn't integrate well with the rest of the equipment. If this is the case, the studio design company would need to rectify the situation.
By purchasing the equipment for you, your studio design team can detect any issues in advance of your receiving the equipment. And it allows them to change out the equipment before it gets to you. It speeds up the process and guarantees that you'll get equipment that works.
The studio design team has experience with various brands.
A qualified studio design and building team knows what retail outlets, brands and manufacturers are best to work with. This is especially important to prevent issues in the process. And if issues should arise, they know which manufacturers will work with them more effectively and efficiently. They will purchase from these companies and work directly with them to see that everything goes smoothly.
Your studio design team will also know what questions to ask the manufacturer to ensure that the equipment will work well and will integrate with the other equipment in the planned facility. If your studio design team is making the purchase, they will be responsible for researching the equipment fully. If there's any research needed, the design team can have their technical staff speak with the equipment manufacturer's technical team. They can determine the possible need for additional items to connect the equipment. They can make sure everything will integrate appropriately.
If your studio design and building company buys the equipment, they will be responsible for it.  
If you buy it yourself, you'll be responsible for anything that doesn't work as it should. All the equipment will be sent directly to you, so it won't be tested in advance. If there's an issue, you'll have to work it out with the company you've bought from.  This can delay the completion of your studio.
Should I buy my own video studio equipment, or should I allow my studio design contractor to buy it?
While we don't require it of our clients, we do recommend that they allow us to purchase all of their equipment. We feel there's a great advantage to them for doing so.
ARE YOU INTERESTED IN BUILDING AN IN-HOUSE VIDEO PRODUCTION STUDIO?
Contact us here at Ball Media Innovations. We're experts at creating educational and corporate video production studios. We know how to design your studio in a way that enables productivity, creativity and efficiency. We can also create a great working environment and a studio you can be proud of.